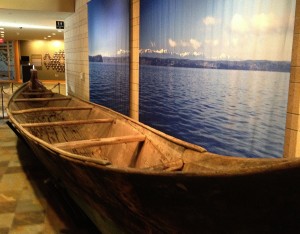 by Mary E. Trimble
The Hibulb Cultural Center & Natural History Preserve is a fascinating museum located on the Tulalip Reservation adjacent to the city of Marysville, Washington, 34 miles north of Seattle. Hibulb (pronounced Hee-bolb) is resplendent with tribal folk lore, carving, weaving, knitting, and sculpture.
The center is named for the large village of Hibulb that was at the end of a bluff overlooking Puget Sound. Warriors who lived in longhouses at Hibulb protected their people from invasion of their territories. From Hibulb, they could see enemies approaching from a long distance and they would light a huge signal fire to warn the other villages and longhouses across the bay and up the Snohomish River.
via Hibulb Cultural Center: Keeping the Cultural Fires Burning | Mary E. Trimble.